Must visit locations for beginners

Underwater tunnels near the island of St. Nicholas or the towns, because of their beauty and the clear sea, call Hawaii at a depth of 5 and 9 meters and are about 15 and 30 meters long. The candidate dives accompanied by instructors, and because of the safety of the participants with one client, one instructor dives. The tunnels are fairly broad and beautifull.
After the dive, the client gets a mask and a dish so that he can enjoy the warm and clear sea. Underwater photos from this site fall under the category "MUST HAVE IT". A large number of clients in this diving spot have fallen in love with diving and started their underwater career. The beauty of this dive site has inspired many loving couples to ask for a new location in the course of a dive and crown their love exotically and unusually, bringing memories of their entire lives. This dive site is available for all categories of divers, from beginners without certifications to experienced licensed divers.

Experience the wonders of Montenegro's underwater realm with our diving center. Just a short boat ride away, you'll encounter two extraordinary dive sites. Explore the captivating wreck of the Oreste, a submerged steamer resting at 32 meters, divided into two parts amidst a sandy bottom. With abundant marine life and visibility of 15-20 meters, this site is accessible to divers with Open Water or higher certifications.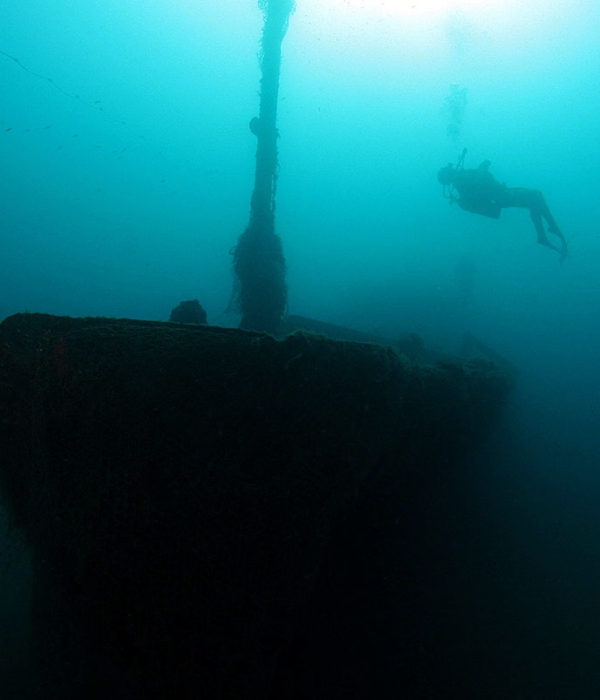 Nearby, the Fisherman Boat awaits at 21 meters, perfectly preserved after succumbing to a storm. Suitable for divers with a minimum Open Water Diver certificate, this site offers excellent visibility and a truly unique diving experience. Join us for unforgettable underwater adventures in beautiful Montenegro.
Wreck of Oreste & Wreck Fisheram boat
Must visit locations for licensed divers
Must visit locations for licensed divers

Explore the hidden underwater gems of Montenegro with our diving center. Dive into the mesmerizing Sweet Cave, a unique mixture of freshwater and saltwater. Discover its stunning stalactite-filled gallery and continue your adventure along the ridge, reaching depths of up to 30 meters. For certified Open Water Divers with logged dives, this captivating site awaits just 30 minutes away.
Embark on a thrilling dive to Galiola, an underwater pyramid near St. Nicholas Island. Dive through two chimneys, teeming with vibrant marine life, including octopuses, groupers, and more. Enjoy warm waters and excellent visibility during summer months. With depths of up to 25 meters, this enchanting dive site is accessible to certified divers holding an Open Water Diver certificate. Join us for unforgettable underwater exploration in Montenegro.